Claire Parsons recieives the Cullberg Prize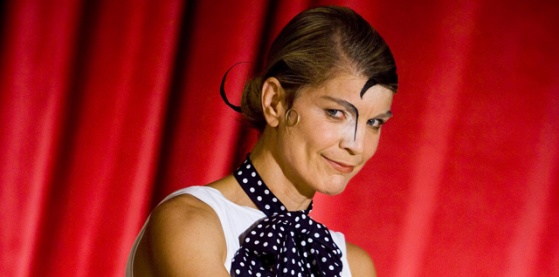 In August the choreographer Claire Parsons will receive the prestigious Cullberg prize from the City of Stockholm, a prize that is awarded to a choreographer, dancer or a dance company who has contributed to the development within the field of Dance in Stockholm.

For the fall season 2018 Claire Parsons will be creating a new work for Dansstationen in Malmö (SE) and for the Royal Dramatic Theater/Sweden's National Theater in Stockholm (SE). In September MARMELADE travels to Norway and GRASS continues to tour in Sweden. At the end of October Claire Parsons Co. will be embarking on the first part of a planned two year tour in the United States with AND THEN. An finally, in November the production SIGNAL , that premiered last year at Dansens Hus in Stockholm (SE), will go on the road for the first time.
May 4 – 6 Claire Parsons Co. will perform six shows of MARMALADE at The Seoul Museum of History in South Korea. The Seoul Museum of History is throughout spring 2018 presenting high-quality Swedish culture for young audiences in South Korea. In conjunction with performances of MARMALADE, Swedish Western Heritage will present the exhibit CAN DO IT ON MY OWN – an experiential sound installation for the very young.
From Seoul MARMALADE will perform at the Swedish west coast town of Lilla Edet and onward to Oslo in Norway, in Uppsala and in June in Gothenburg. We will commence our fall with a week of MARMALADE in Norway.
This summer we have an invite from Brasil to perform 10 shows of MARMALADE at the international circus festival Circo Festival in July in Sao Paolo. We are honored to be invited and are looking for possibilities to travel for the first time to Sao Paulo!
Read more about MARMELADE here .
AND THEN to the United States
October 28 – November 11th Claire Parsons Co will be embarking on the first part of a two year tour in the United States. 2018 we will tour the East Coast. 2018 AND THEN will be part of the Kids Euro Festival in Washington DC where we will perform at different spaces, one of them The House of Sweden. Following Washington DC the company will continue to Fayetteville to present AND THEN at The Walton Arts Center ! The tour is a direct result from presenting AND THEN at IPAY in Madison in January 2017. More info about AND THEN here .
Claire Parsons at the Royal Dramatic Theater and Danstationen in Sweden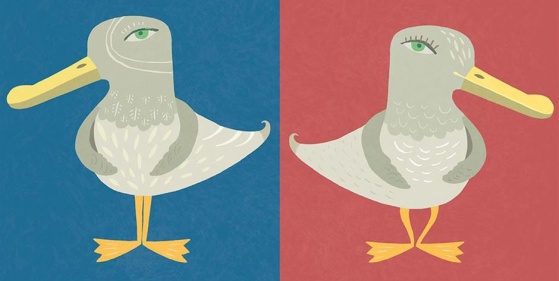 Choreographer Claire Parsons will be busy this fall, creating new work for Dansstationen in Malmö (SE) and for the Royal Dramatic Theater/Sweden's National Theater in Stockholm (SE). In Malmö it will be work celebrating 20 years of Dansstationen's touring company and their first piece, created by Claire. For The Royal Dramatic Theater she will premiere A SMALLER SWAN LAKE on November 30th, in the theater's initiave to create a classic piece for very young audiences. A SMALLER SWAN LAKE is about being perfect just the way you are. More info here .
Our producer Anna Karlander is now leaving the company. Anna has been working with Claire Parsons since 2014.

- I send a heartfelt thank you to everyone for my years with Claire Parsons Co., says Anna. There are so many wonderful memories with lovely dancers and co-workers, exciting collaborations, colleagues in Sweden and abroad, amazing presenters and audiences and great art for both small and large individuals. Thank you Claire!
- Now I will focus all my attention on a new little life, and after my parental leave , I will be working with GöteborgsOperansDanskompani. Hoping to meet you again in the dance world!

We will miss Anna but wish her the best for a new future and we are very happy to welcome our new producer Lina Dahlgren to start working with Claire Parsons Co. Lina started out as a dancer, and has since changed career path into producing.

Thank you
The Swedish Arts Council, The City of Stockholm Cultural Department, The Culture Department for the Region of Stockholm, The Swedish Arts Grants Committee… and to producers and directors who work to promote good performances and art experiences for young audiences!
Read our newsletters here: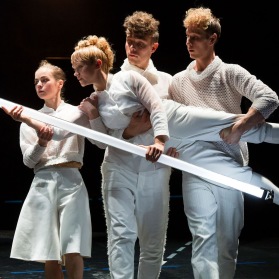 SIGNAL premiered in November 2017 at Dansens Hus /The House of Dance in Stockholm, Sweden. In November SIGNAL will travel to new venues. We are happy to be able to present this ambitious play on communication using movement, sound, light, film and images and where performers and audiences exist in the same space – together.

" An interactive all-art work where the audience has the leading role." Svenska Dagbladet

" Claire Parsons has once again, after a series of pieces for children's audiences where Marmalade is a top notch, created vital contemporary dance for the most responsive, concentrated and open audience: children." Expressen

Read more about SIGNAl here.

More information to come!
GRASS is quite fully booked throughout 2018 – we are delighted and quite over the moon! This spring we have been on an extensive tour throughout Sweden, giving us many opportunities to meet children and their adults in northern Sweden and down south in Malmö.

"It is imaginative, amazing and beautiful." Svenska Dagbladet

"Nothing but a wonderful and grassy conundrum for each and all." Dagens Nyheter

Read more about venues and performance times here >>>
January of last year we were selected to perform AND THEN… at IPAY, International Performing Arts for Youth in Madison, Wisconsin, USA – the largest and most important meeting place for performing arts for young audiences in Northen America.

We performed AND THEN…selected as one of 17 shows shown at the festival. As the only Swedish group we were very proud to represent our national tradition of performing arts for young audiences. IPAY 2017 resulted in a U.S tour this coming fall!

2018 Claire Parsons travelled solo to IPAY.

Read more here >>>