Our producer Anna Karlander is now leaving the company. Anna has been working with Claire Parsons since 2014.

- I send a heartfelt thank you to everyone for my years with Claire Parsons Co., says Anna. There are so many wonderful memories with lovely dancers and co-workers, exciting collaborations, colleagues in Sweden and abroad, amazing presenters and audiences and great art for both small and large individuals. Thank you Claire!
- Now I will focus all my attention on a new little life, and after my parental leave , I will be working with GöteborgsOperansDanskompani. Hoping to meet you again in the dance world!

We will miss Anna but wish her the best for a new future and we are very happy to welcome our new producer Lina Dahlgren to start working with Claire Parsons Co. Lina started out as a dancer, and has since changed career path into producing.

Photo: Mats Åsman
January 23 – 24 we will be performing at our first festival of the year! Looking forward to inaugurating the Purple Internationales Tanzfestival für junges Publikum in Berin with AND THEN…
Purple Tanzfestival is a 6 day festival in its second year in Berlin, Germany. The programme consists of performances and workshops at several venues. The festival aim is to cater towards children and young audiences 6 years and up with the ambition of awakening their curiousity for dance.
Our participation is possible through a grant for international travels from the Swedish Arts Council.

Read more >>>

Watch a festival trailer!
We are finally touring GRASS! In February, March and April 2018 we will be going up north as well as south with our green set. In GRASS the audience will be enveloped in dance, puppet theater and soft circus in a creative and poetic collaboration between Claire Parsons Co and The Marionett Theater in Stockholm.

Dates:
Feb 1 – 3 Haninge, Feb 6 – 8 Kristinehamn, Feb 10 Västerås, Feb 14 – 15 & 17 Umeå, 19 Feb Åsele, Feb 20 Lycksele, Feb 22 & 24 Skellefteå, Feb 25-27 Sundsvall, Feb 28 –March 1 Östersund, March 23 Linköping, March 25 Husby, March 27 Nacka, April 11 Örebro, April 12-13 Stockholm, April 14 Vallentuna, April 17-19 Göteborg, April 22 Malmö.

"It is full of fantasy, marvellous and ingenious" Svenska Dagbladet
"Grass" is nothing other than a delightful grassy piece for each and all" Dagens Nyheter

More about the performance spaces and times here >>>
SIGNAL – PREMIERE November 5th 2017
Welcome into a poetic, surprising and delightful performance of new perspectives. In SIGNAL you can sit, stand and walk. And hold someone's hand if you want to!

November 5th 2017 was the world premiere of SIGNAL by Claire Parsons Co at Dansens Hus in Stockholm, Sweden. SIGNAL is a performance that invites you in, sends out and signals. A play with movement, sound, light, film and images. In SIGNAL, the dancers and the audience are in the same space – experiencing the performance together.

What is a signal and how do they work? SIGNAL takes place in a marvellous world where physicality and sounds appear in new contexts. Being in front of or behind, in the middle and in the periphery, communicating and sending signals. To send a signal is also to communicate meaning; feelings and impressions.

Set designer and artist Anna Nyberg and composer Mikael Svanevik create spaces where sound moves with the performers, far away or close. The music is in part inspired by radio sound scapes. Short waves. Long waves. Waves of noise. Music and sound that points to the future and also looks back.

Choreography Claire Parsons Performers Mira Björkman, Viktor Gyllenberg, Elin Hallgren, André Kaliff, Linn Ragnarsson Set design Anna Nyberg Music Mikael Svanevik Light design Mira Svanberg Costume Bitte Palm Mask Gunilla Pettersson Photo and film in performance Tina Axelsson Photo Martin Skoog

Family performance from 5 years, at Dansens Hus in Stockholm (SE).
Public performances November 5th at 1 pm & 3 pm.
School performances November 6-7 at 10 am & 1 pm. R
Thank you
The Swedish Arts Council, The City of Stockholm Cultural Department, The Culture Department for the Region of Stockholm, The Swedish Arts Grants Committee… and to producers and directors who work to promote good performances and art experiences for young audiences!
Read our newsletters here: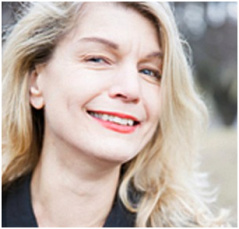 January of last year we were selected to perform AND THEN… at IPAY, International Performing Arts for Youth in Madison, Wisconsin, USA – the largest and most important meeting place for performing arts for young audiences in Northen America.

We performed AND THEN…selected as one of 17 shows shown at the festival. As the only Swedish group we were very proud to represent our national tradition of performing arts for young audiences. IPAY 2017 resulted in a U.S tour this coming fall!

This year Claire Parsons will be travelling solo to IPAY. Please contact Claire if you are there!

Read more here >>>
In March we are going on a short tour with AND THEN. The performance mixes dance and soft circus. Four figures are trying to recount a story but they keep being interrupted. With some dance, some magic and playful elements they move forward, sometimes with help from the audience. from the audience.

Dates and places: March 6 – 7 Enköping, March 13 – 14 Skene, March 16 Tyresö.
More info in our calendar >>>

"And Then …is the dance of lost threads – a charming performance where reality isn't something to be sorted out and instead roams into a delightful mixed fantasy." Svenska Dagbladet
GRASS to Berlin in November 2017
November 25th 2017 GRASS performed at The FEZ Puppet Theatre Festival in Berlin, Germany. FEZ is the largest non-profit cultural center for children, youth and families in Berlin. The festival is celebrating it's 20th anniversary.
GRASS is presented with suppport from the Swedish Embassy in Berlin.

"It is imaginative, absolutely wondrous and ingenious."
/Svenska Dagbladet

Read more >>>
MARMALADE to NYC in November
Photo Mats Åsman
MARMALADE performed at the prestigious New Victory Theater in New York City November 10-19 2017. 20 performances in all! We are happy to hear that the tickets are selling fast. Contact us as soon as possible for complimentary tickets.

The performances in the U.S. are made possible with travel grants from the Swedish Arts Council and the Stockhom City Cultural Council.
Read more >>>