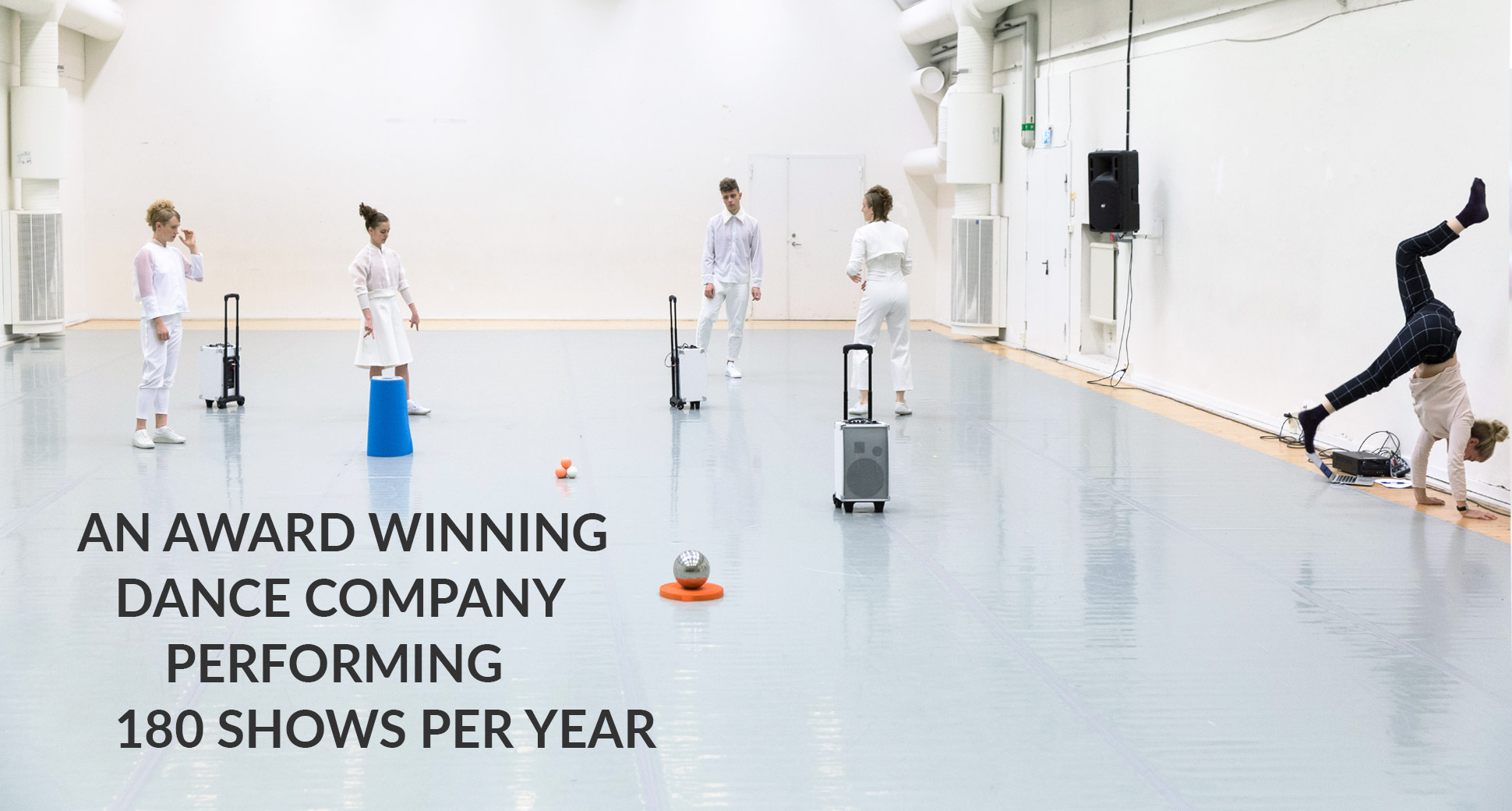 Claire Parsons Co. is an award-winning dance company creating clever and elegant performance art for children.
Joyous movement and fanciful sightings of life around us make the performances unique to audiences worldwide.
Claire Parsons Co. creates 1 – 2 new productions yearly. We tour locally, nationally and internationally. We tour 4 – 5 productions seasonally, and perform 150 – 200 performances every year. We collaborate with a number of institutions, artists and the performing arts in Sweden and internationally.
In 2013, Claire Parsons established her company with Mira Björkman and Viktor Gyllenberg as full-time dancers, Olof Carlsson as technical manager and Anna Karlander as producer.
Since 2021, Lena Yngvesson is the producer for the company.  We work creatively and constructively aiming for artistic excellence in productions, collaborations, and operations.
Our vision is high-quality and innovative performances for young audiences. We are dedicated to dance as an art form for young and adult individuals, in work that combines soft circus, mime, puppetry and the visual arts as an individual experience of the world.  Our aim is to create visual, conceptual and creative moments in experiments and visionary work. We believe dance and cultural expression is a creative tool for a democratic society and cultural experiences as necessary components for a quality of life.
Method and artistic collaborators
As a choreographer, Claire Parsons works with innovative constructions and sensory aspects in a play on visible and invisible aspects. The spectator is the primary subject of the performing experience. The idiom arises in inspirational, close collaborations with company members and in dialogue with reference groups, audiences, theaters and producers in innovative processes. The productions develop in meeting our audiences.
Since 2005 Claire Parsons collaborates with Mikael Svanevik on musical composition and arrangement. She has worked with artist Anna Nyberg since 2013 starting with the company's signature piece MARMALADE .

2014 MARMALADE was presented at APAP in New York, receiving international appraise and an international breakthrough.  Since then, MARMALADE has toured internationally to Holland, Belgium, Russia, Lithuania, Denmark, Finland, Norway, France, Italy, Switzerland, South Korea and Singapore and five times in the U.S.  The company has performed at The New Victory Theater in New York and 2018 at The Kennedy Center in Washington DC.
Claire Parsons has also choreographed and performed in France, Germany, England, Holland, Belgium, Italy, Switzerland, Spain, Austria, Japan, Lithuania, Russia, Norway, Finland, Denmark, Cuba, Guatemala, Venezuela and Nicaragua. Claire has choreographed for the German Staats Ballet, worked with Russian avant-garde artists, received standing ovations in Siberia and performed MARMALADE outdoors at New York's Summer Stage Festival.
Commissions and collaborations
We want to elevate the status of work for young audiences and let it define the cultural landscape, in innovative collaborations with institutions and collaborations and by providing public performances to establish performances for young audiences.
2013 we made a commissioned work for NorrlandsOperan with members of the symphony orchestra.
2016 we created GRASS in collaboration with The Marionett Theater at The Stockholm City Theater.
2017 SIGNAL was created at Dansens Hus in Stockholm.
2018 Claire Parsons created a production for The Dansstationen Touring Company in Malmö, celebrating 20 years of touring dance for young audiences.
2018 Claire Parsons created A Smaller Swan Lake for The Swedish Royal Dramatic Theater in Stockholm in a re-take on the classic ballet, from a child's perspective.
2019 SOON SWOON was created in collaboration with artists and performers in a delightful and mysterious play on swooning situations.
Research project : The Child in the Performing Arts
As a choreographer creating work for young audiences, Claire Parsons is interested in our view of the child is in the performing arts today. In this vein, the company is conducting an on-going artistic research project with the intention to look at:
The role of the child in performing arts created for them by adults.
Is it subject or object?
Since 2013 Claire is in her work inspired by neurodiversity and neurological variations in the experience of dance and performance.
Financial support and awards
Claire Parsons Co receives long term support from the Swedish Arts Council, the Stockholm City Cultural Council, the Stockholm County Council/Region Stockholm and the Swedish Arts Grants Committee. 2015 the company received a prestigious Swedish Theater Critics' Award for Marmalade. 2016 Claire – as the first Swedish choreographer working for young audiences – was awarded a 10 year Artist Working Grant from the Swedish Arts Grant Committee. 2018 she received the Cullberg Award from the City of Stockholm for outstanding accomplishments in the performing arts.