The new piece YELLOW is for outdoor venues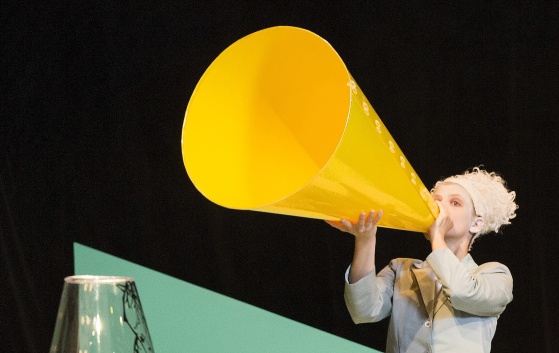 Claire Parsons Co's new dance piece YELLOW for outdoor venues will be performed at Haninge Kulturhus, Stockholm (SE) 22 and 25 Sept 2020. YELLOW is a venture with dancers, a juggler and a yellow visitor, suitable for outdoor venues, public spaces and museums.

Claire Parsons Co's first tour since the beginning of March will start with SIGNAL performing at Gottsunda theater in Uppsala (SE), 27-29 Aug 2020. GRASS will tour in the north of Sweden, visiting Arvidsjaur, Luleå, Piteå, Haparanda, Kalix and Pajala in September.
SOON SWOON to Dansens Hus in Stockholm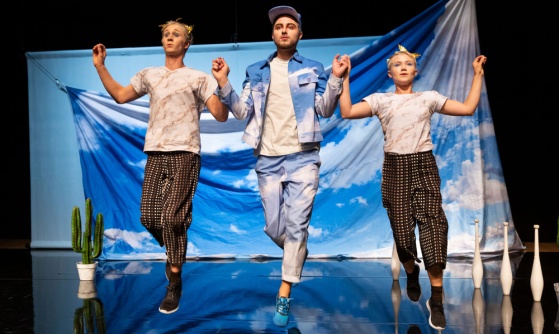 We kicked off 2020 with performances of SOON SWOON at the international PURPLE FESTIVAL in Berlin (DE) January 22nd and January 23rd. Claire also joined the festival panel discussing performing arts for young audiences.

PERFORMANCE CANCELLED DUE TO COVID 19. We are performing SOON SWOON at Dansens Hus/House of Dance in Stockholm (SE) twice this spring! Check out our dates in February and March to see a show that travels through parallell realities and those overwhelming feelings for audiences from 9 and up. SOON SWOON premiered this September at Haninge Culture House in Stockholm (SE) with raving responses from our audiences!

"10 out of 10" "Pina Bausch for children."

In a blue room with a black reflecting floor and Greek statues two figures appear. Or – are they three? They join forces and travel in parallel realities, fantasies and feelings.The work plays with the title 'Swoon'. Here 'Swoon' becomes an actor who mirrors himself, poses or invents new ones. Or 'Swoon' becomes an experience with a fantastically different world. With great emotions, dancing and juggling, a performance full of wit and joy is created. For an audience of 10 years and older.

Performers: Mira Björkman, Lucas Carlsson, Viktor Gyllenberg
Choreography and staging: Claire Parsons
Scenography: Anna Nyberg
Musical composition och arrangement: Mikael Svanevik
Costumes and tailor: Bitte Palm
Lighting and technique: Christian Farcher
Hair and make up: Angelica Ekeberg
Producer: Lina Dahlgren
Co-production and residency at Haninge Culture House.

SOON SWOON was created in artistic residency at Haninge Culture House. Made with support from the National Arts Council, The Cultural Region of Stockholm, The City of Stockholm Culture Department and The Swedish National Arts Council.

Watch a trailer here:
MARMALADE in Oslo December 4-8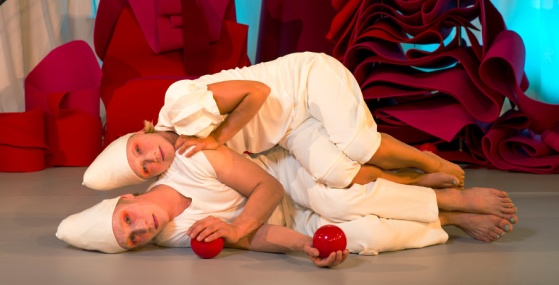 We are happy to present our signature piece MARMALADE at a week-long stay at Dansens Hus/House of Dance in Oslo (NO) from December 4 – 8 2019! All of the family shows quickly sold out and two shows have been added during the weekend.

Also - Dansens Hus in Oslo has a Reach Out-project to make performances for young audiences more available. MARMALADE will during the week be shown in VR/Virtual Reality at hospitals in Oslo.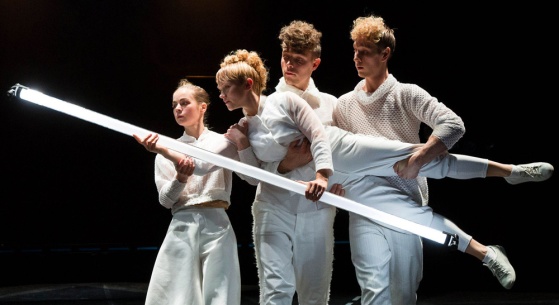 Our grand, immersive and interactive show SIGNAL with movement, sound, light and images where the audience and the performers are in the same room is for all ages. Every performance becomes a unique meeting and adventure for audiences and performers.

"Exceptional" "A gesamtkunstverk with poetic undertones in an enticing modernistic adventure unlike anything I have seen. An experiment with the actual experiencing of what art can be." Upsala Nya Tidning

After successful performances in Uppsala and Kungsängen (SE), we look forward to new opportunities and meeting audiences in 2020.
Last touring dates with GRASS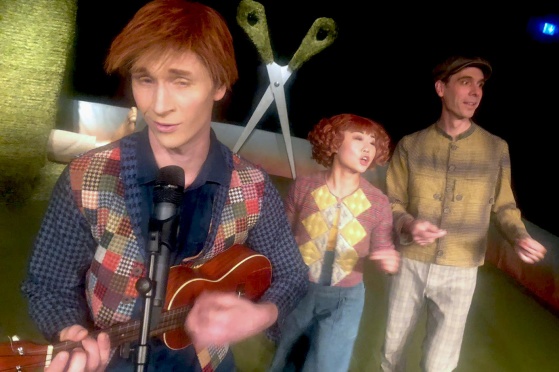 2019 GRASS has performed 73 shows in Sweden, Danmark and Belgium. Thank you to audiences and performers locally, nationally and internationally!

"A classic and wonderfully tender performance." / Växjö Allehanda
MARNMELADE goes Virtual Reality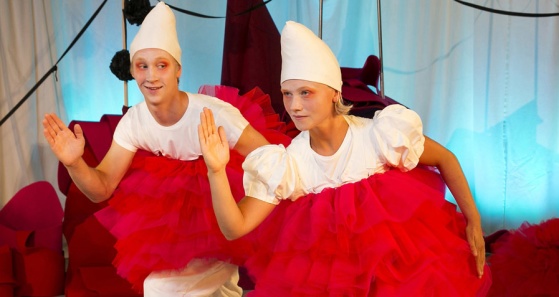 November 27th 2018 we embarked on a very special day of filming with MARMALADE in focus!

This dance and soft circus performance is for children from 2 years and up and will next year be available in VR/Virtual Reality format. It is a collabortaion between Film Stockholm and DIS/Dance in the city and region of Stockholm. The recording was created in 3D and 360° and shown in a VR-headset. This technique allows for a total and immersive experience of MARMALADE.

The film will be available for children at hospitals and special education students. The VR-project is supported by the City of Stockholm and the Regional Council of Stockholm.

Many thanks to Camilla Luterkort, director of DIS/Dance in the Region of Stockholm who initiated this project!
A sucessful tour in the US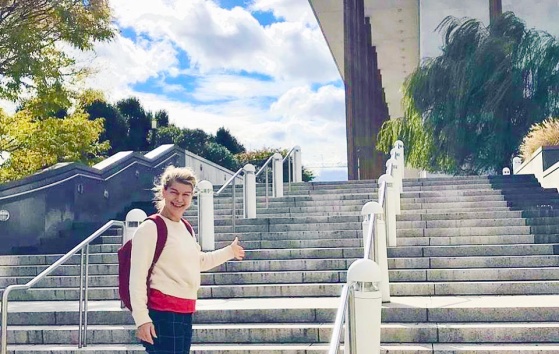 Our tour to the United States with the performance AND THEN October 28 – November 10th 2018 was a fantastic experience! The tour started at the prestigious Kennedy Center and The Millenium Stage in Washington DC, followed by a week of performances at The Eurokids Festival in Washington DC, including Alliance Francaise, Montgomery Center and The House of Sweden. We continued to Walton Arts Center in Fayetteville, Arkansas and performed for 3.500 children!

Special Thanks to The Embassy of Sweden and Cultural Attaché Linda Zachrisson and incomparable cultural progam officer Jenny Mählkvist Cabezas for inviting us to be part of a fantastic Euro Kids Festival and arranging an amazing week.
Thankyou also for the economic support that made this possible!

"The kids loved AND THEN... It was an amazing experience to see so many kids – many who hadn't visited us for years. Thank you for the wonderful work and for making this happen!" Laura Goodwin, Walton Arts Center

"Thank you very much for your time and attention to wonderful art.
Sincerely," Mike Miehl (Maryland, USA)

The tour is a direct result from presenting AND THEN at IPAY in Madison in January 2017. More info about AND THEN here .
Claire Parsons receives the Cullberg Prize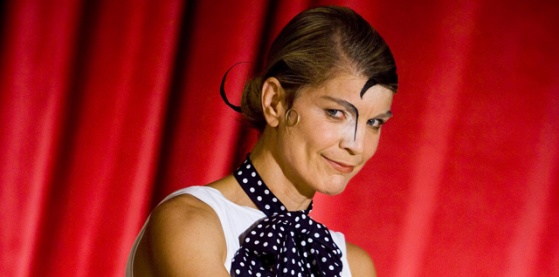 In August 2018 the choreographer Claire Parsons received the prestigious Cullberg prize from the City of Stockholm, a prize that is awarded to a choreographer, dancer or a dance company who has creatively contributed to the development within the field of Dance in Stockholm.
Thank you
The Swedish Arts Council, The City of Stockholm Cultural Department, The Culture Department for the Region of Stockholm, The Swedish Arts Grants Committee… and to producers and directors who work to promote good performances and art experiences for young audiences!
Read our newsletters here:
Hanna Falk is working with us!
Hanna Falk is our new coordinator and strategist. Hanna Falk is a free-lancing producer within the dance and cultural sectors. She has been on the board of Danscentrum Syd and is a part of the selection board for Swedish Assitej. Most recently Hanna has worked with the Malmö based dance company Memory Wax and has newly relocated to Dusseldorf.

- I am very happy to work with Claire Parsons Co who has always dazzled me with humour and amazing aesthetics, says Hanna.

We are very happy that Hanna will be working with us in coordinating our many tours, keeping in contact with our organizers and working strategically in the company.
You can reach Hanna on her mobile + 46 70-733 89 11 and/or mejl hanna@claireparsons.com