Our new production: SOON SWOON
In May Claire Parsons Co. starts rehearsing the new production SOON SWOON, a trip into alter egos and big feelings for audiences from 10 years and up. SOON SWOON will be in residency at Haninge Culture House in Stockholm (SE), premiering September 6 with performances September 7–11.
Artistic development for SIGNAL
Claire collaborated with the German dramaturge Canan Erek from Berlin in an artistic development of the immersive performance SIGNAL. Canan is an experienced dancer and choreographer creating installations and site-specific work. She is also the artistic director for Purple Festival in Berlin, a new festival focusing on work for young audiences.

SIGNAL premiered at Dansens Hus in Stockholm in 2017 and has since met with much enthusiasm from audiences from all ages. A poetic and immersive performance, SIGNAL is a "truly democratic performance where the audience has the main role" (Svenska Dagbladet). Claire is interested in exploring the role of the audience in a work where the dance and the audience is in the same space, together. SIGNAL will be performed at Västerås Concert Hall May 9, 10 and 11. Read more about SIGNAL here.

SIGNAL is a poetic, surprising and willful experience that can be shared with the whole family.

" An interactive all-art work where the audience has the leading role." Svenska Dagbladet

" Claire Parsons has once again, after a series of pieces for children's audiences where Marmalade is a top notch, created vital contemporary dance for the most responsive, concentrated and open audience: children." Expressen
Reflections from a trip to Cuba
March 15 – 23, Claire headlined a ten-day residency in Havana, Cuba. Together with the Swedish artist Anna Nyberg she worked with dancers from the Cuban dance group Retazos. The residency culminated in a 15 minute presentation. The residency was part of the festival Transitos Habana, organized by the Swedish company Memory Wax which also included performances of Claire Parsons' signature work MARMALADE, performed by the company dancers Moa Westerlund and David Nondorf.

- Cuba was an immense blend of warmth, friendly people, colors, torn up walls, buildings in disarray, bodies, dancing, life and music.

- We met seven dancers from Cuba and during ten days we worked on themes of communication, audience immersion and communication. About making pieces for young audiences. The residency ended in a showing where the children came up to dance on stage with us. Cuba made strong impressions, with its rich culture and love of dance!

Thank you to The Swedish Arts Grants Committee for providing funding for this residency in Havana!
------------------------------------------
Last year Claire Parsons received a request from the Swedish dance company Memory Wax to participate in the festival Jornadas de Intercambio Cultural con Paises Escandinavos; Transitos Habana in Havana, which Memory Wax has been co-organizing since 2012. At the festival, artists from Cuba and Scandinavia meet and present their work through performances, workshops, exhibitions and lectures. The goal is to focus on and to develop the international cultural exchange between Cuban and Scandinavian artists. The festival is a collaboration with Danza Teatro Retazos and part of Retazo's Evoluciona - Reach Out OverSeas, a 3-year international project. Transitos Habana takes place at Danza Teatro Retazo's scene; Las Carolinas, Fabrica de Arte Cubano and on rooftops, streets and squares of Havana.

Reach Out OverSeas is financed by EU funds and contributions from the Arts Committee and the Swedish Arts Council etc. Claire Parsons and Anna Nyberg's participation in the residence with Danza Teatro Retazos is made possible with contributions from the Arts Committee.
Claire Parsons Co. visited IPAY in Philadelphia January 15-19
The company is off and running in 2019 – we started off with IPAY, International Performing Arts for Youth in Philadelphia!

2015 was the first time we attended IPAY, with our production MARMALADE. Three years later and many performances around the world, MARMALADE performed at The New Victory Theater in New York November 10th – 19th 2017, a total of 20 performances. AND THEN... toured the US this past fall, starting at the prestigious Kennedy Center in Washington DC and ending in Arkansas. U.S touring was funded by The Swedish Arts Council, The Swedish Embassy in Washington DC and The Swedish Arts Grants Committee.

At IPAY 2019 we presented our latest production SIGNAL at the SPOTLIGHT TELL. SIGNAL is a poetic and immersive performance that invites us into a world of communication through dance, soft circus, polyphonic sound, images, fantasy and meetings. More info about the presentation here.

Claire Parsons did a pre-creative SPARK conference, talking about work for young audience, methods and tools and also creating Parsons' choreography together. This artistic workshop iwas led by Claire and Amanda Pintore (USA). Read more here.

Please get in touch with us if you want to know more about the company and our productions available for touring.

Claire Parsons, Choreographer, +46 (0)70 827 41 80
Lina Dahlgren, Producer, +46 (0)72 043 58 44
A SMALLER SWAN LAKE premiered at the Royal Dramatic Theater in Stockholm
Claire Parsons premiered her newest production A SMALLER SWAN LAKE on November 23rd. The reviews and audience reactions have been overwhelming. An extremely different view from the original A SMALLER SWAN LAKE is about learning to fly, testing a silver lake and new steps for flocks of birds. Claire Parsons' A SMALLER SWAN LAKE challenges our expectations of how things are supposed to be done. A big classic in a new format that takes new and unexpected steps.

"A tender and mischievious take on a Tchaikovsky classic". Svenska Dagbladet
"45 minutes of pure movement joy". Expressen
"We leave the theatre uplifted and ready to fly together." Dagens Nyheter

Direction and choreography Claire Parsons Performers Nina Fex, Petter Wadsten, Li Molnár Kronlid Set design Emma Fallde, Tina Paulson Music Mikael Svanevik Lighting design Jesper Larsson Costume Bitte Palm Masque Moa Hedberg

World premiere November 23 2018 at The Royal Dramatic Theater in Stockholm. Performances until December 16. See all the dates here. Family performance från 5 years and up. Read more here >>>
A sucessful tour in the US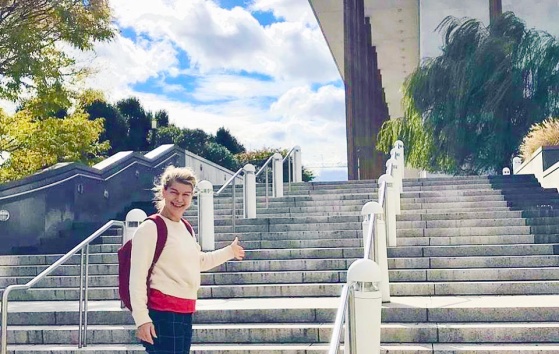 Our tour to the United States with the performance AND THEN October 28 – November 10th 2018 was a fantastic experience! The tour started at the prestigious Kennedy Center and The Millenium Stage in Washington DC, followed by a week of performances at The Eurokids Festival in Washington DC, including Alliance Francaise, Montgomery Center and The House of Sweden. We continued to Walton Arts Center in Fayetteville, Arkansas and performed for 3.500 children!

Special Thanks to The Embassy of Sweden and Cultural Attaché Linda Zachrisson and incomparable cultural progam officer Jenny Mählkvist Cabezas for inviting us to be part of a fantastic Euro Kids Festival and arranging an amazing week.
Thankyou also for the economic support that made this possible!

"The kids loved AND THEN... It was an amazing experience to see so many kids – many who hadn't visited us for years. Thank you for the wonderful work and for making this happen!" Laura Goodwin, Walton Arts Center

"Thank you very much for your time and attention to wonderful art.
Sincerely," Mike Miehl (Maryland, USA)

The tour is a direct result from presenting AND THEN at IPAY in Madison in January 2017. More info about AND THEN here .
You can can also watch the show - here! - recorded on October 28th at The John F. Kennedy Center for the Performing Arts in Washington. .
With Viktor Gyllenberg, Andre Kaliff, Linn Ragnarsson and Amanda Roynesdotter.
Linda Zahrison, Counsellor for Cultural Affairs in Washington introduces the company and tells a little bit about House of Sweden.
Claire Parsons at the Royal Dramatic Theater and Danstationen in Sweden
Choreographer Claire Parsons will be busy this fall, creating new work for Dansstationen in Malmö (SE) and for the Royal Dramatic Theater/Sweden's National Theater in Stockholm (SE). In Malmö the new production is a celebration that 20 years ago Claire Parsons created Dansstationen first production for the touring company. For The Royal Dramatic Theater Claire is creating A SMALLER SWAN LAKE, a very different take on the classic ballet. The Royal Dramatic Theater's initiave is re-creating classic pieces for young audiences. More info here .
Claire Parsons receives the Cullberg Prize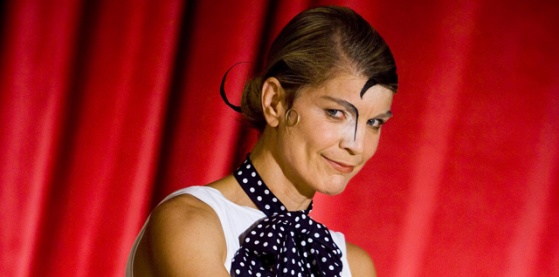 In August 2018 the choreographer Claire Parsons received the prestigious Cullberg prize from the City of Stockholm, a prize that is awarded to a choreographer, dancer or a dance company who has creatively contributed to the development within the field of Dance in Stockholm.
May 4 – 6 2018 Claire Parsons Co. performed six shows of MARMALADE at The Seoul Museum of History in South Korea. The Seoul Museum of History was throughout spring 2018 presenting high-quality Swedish culture for young audiences in South Korea. In conjunction with performances of MARMALADE, Swedish Western Heritage presented the exhibit CAN DO IT ON MY OWN – an experiential sound installation for the very young.

Read more about MARMELADE here .
With a demand for performances at an all-time high, we have expanded our company and welcome performer David Nondorf, who has worked with amongst others Ohad Naharin, Martin Forsberg and the Stockholm City Theater. David will start working with us in May for our tour to Seoul, South Korea. Welcome David!
Our producer Anna Karlander is leaving the company to work from her home base in Gothemburg. Anna has been working with Claire Parsons since 2014.

- I send a heartfelt thank you to everyone for my years with Claire Parsons Co., says Anna. There are so many wonderful memories with lovely dancers and co-workers, exciting collaborations, colleagues in Sweden and abroad, amazing presenters and audiences and great art for both small and large individuals. Thank you Claire!
- Now I will focus all my attention on a new little life, and after my parental leave , I will be working with GöteborgsOperansDanskompani. Hoping to meet you again in the dance world!

We will miss Anna but wish her the best for a new future and we are very happy to welcome our new producer Lina Dahlgren to start working with Claire Parsons Co. Lina started out as a dancer, and has since changed her career path into producing.

Thank you
The Swedish Arts Council, The City of Stockholm Cultural Department, The Culture Department for the Region of Stockholm, The Swedish Arts Grants Committee… and to producers and directors who work to promote good performances and art experiences for young audiences!
Read our newsletters here:
Lina and Claire will be at the 2019 Swedish Performing Arts Biennal
Claire is a featured speaker on the panel: WORKING INTERNATIONALLY – INTERESTING FOR WHOM? The panel discussion will take place at The Quality Hotel in Sundsvall on Thursday May 16 at 10 a.m.
If you would like to meet Lina Dahlgren, Claire Parsons' producer, the Biennal is an excellent opportunity! Lina will be at the Biennal on May 16–17. Get in touch with Lina here.
MARNMELADE goes Virtual Reality
November 27th 2018 we embarked on a very special day of filming with MARMALADE in focus!
This dance and soft circus performance is for children from 2 years and up and will next year be available in VR/Virtual Reality format. It is a collabortaion between Film Stockholm and DIS/Dance in the city and region of Stockholm. The recording was created in 3D and 360° and shown in a VR-headset. This technique allows for a total and immersive experience of MARMALADE.

The film will be available for children at hospitals and special education students. The VR-project is supported by the City of Stockholm and the Regional Council of Stockholm.

Many thanks to Camilla Luterkort, director of DIS/Dance in the Region of Stockholm who initiated this project!
GRASS was a completely fully booked show throughout 2018 – we are delighted and quite over the moon! Spring and fall of 2018 we were on an extensive tour throughout Sweden, giving us many opportunities to meet children and their adults in northern Sweden as well as down south in Malmö.

And the touring continues in 2019!

"GRASS is imaginative, amazing and beautiful." Svenska Dagbladet

"Nothing but a wonderful and grassy conundrum for each and all." Dagens Nyheter

Read more about venues and performance times here >>>
Claire Parsons will attend IPAY in Philadelphia January 15-19 2019.
Don´t hesitate to contact Claire if you´re going there too!

January of last year (2017) we were selected to perform AND THEN… at IPAY, International Performing Arts for Youth in Madison, Wisconsin, USA – the largest and most important meeting place for performing arts for young audiences in Northen America.

We performed AND THEN…selected as one of 17 shows shown at the festival. As the only Swedish group we were very proud to represent our national tradition of performing arts for young audiences. IPAY 2017 resulted in a U.S tour this fall 2018!

Read more here >>>